Responsible for the content on this site:
- Bernie Zöttl
- Amraserstr. 110 a - Innsbruck (Austria)
- Tel: +43 (0)650/8409918
- eMail: bernie_c_c@lycos.de
- ICQ: 334-799-835
---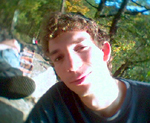 My web sites:
- IrisSolutions (www.iris.us.pn)
- Englisch Nachhilfe (www.englisch-nachhilfe.at.pn)
- EnglishPage (www.englishpage.de.vu)
More about me:
Hi, my name is Bernie Zöttl, I am 23 years old, I have studied Translation and Interpretation for German, English and Spanish since 2002, and I teach English as a side job.
I already started teaching English while I still went to school - I taught younger students, and even helped some of my friends in my class prepare for their English Matura.
Since January 2003 I have also been an English teacher at Schülerhilfe Innsbruck.
I offer affordable private English lessons for students of all schools and grades in Innsbruck. For more information, please visit www.Englisch-Nachhilfe.at.pn.
In my career as an English teacher, which has been quite long now, I have designed a lot of teaching material which I use in my lessons and most of which can also be found online on this site.
If you have any more questions concerning this web site or my Private English Lessons, please don't hesitate to contact me via eMail!