-tips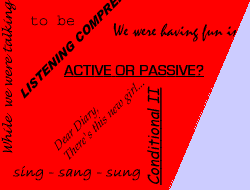 GAMES
In this section of the EnglishPage, you can find a collection of fun games to learn and practice English.
All links are checked before being put on this site. However, it can always happen that a link no longer works. In such an event, please just write an eMail.
If you know other useful sites for learning English, you can also suggest a new link sending an eMail.
Have you ever thought of improving your English skills with the help of your favorite songs?
If the answer is "NO", it's high time you started! Because in fact, music is one of the greatest, most efficient - and most pleasant - ways of studying a language! Read more...
---
This section of the EnglishPage is currently under construction!
Soon, you will be able to find many fun games to improve your English here!
Until then, you can test your vocabulary playing HANGMAN!
Writing and Reading exercises and tasks to improve your English!

On the englishpage you will be able to practise your reading and writing skills in many different writing and reading tasks, exercises and comprehensions. Read interesting English texts, write summaries, book reviews, articles, opinion essays, argumentative essays, formal letters and informal letters as well as letters to the editor and many other texts. Textwriting and textunderstanding are vital skills in English as a Foreign Language! EFL learners - improve your English! Extend your vocabulary!

Practise and train your English in real tests and using multimdia exercises!

Test your EFL knowledge and your ESL skills in Grammar and mixed tests and exams, and improve your listening, reading, writing and expression in English. Language skills are important in today's global environment! Learn how to excel in English with the help of multimedia! Videos and listening comprehensions to improve your listening and understanding of real, spoken English! EFL students - start improving your English TODAY