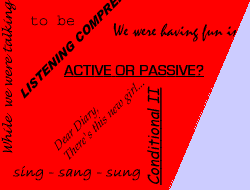 READ & WRITE
Read-and-write exercises are typical impulse texts. After reading a text on a certain topic, you may be asked to write a similar text, give your opinion on the topic at hand (opinion essay) or weigh the pros against the cons (argumentative essay), continue a story or write a reply (a formal letter, informal letter or letter to the editor, a comment...)
For more tips on how to write certain sorts of texts, please check out the rules and guidelines for textwriting...
* very easy (basic)
** medium (intermediate)
*** difficult (advanced)
Writing and Reading exercises and tasks to improve your English!

On the englishpage you will be able to practise your reading and writing skills in many different writing and reading tasks, exercises and comprehensions. Read interesting English texts, write summaries, book reviews, articles, opinion essays, argumentative essays, formal letters and informal letters as well as letters to the editor and many other texts. Textwriting and textunderstanding are vital skills in English as a Foreign Language! EFL learners - improve your English! Extend your vocabulary!